In recent years, the scale of ODM has continued to grow, and many ODM are now large enough to cope with the production of multiple customers, usually accounting for a large part of the entire production. The main attributes of OEM & ODM Service are products owned by ODM or internally designed by the purchasing company. Next, we will introduce the OEM & ODM Service for Automotive code reader.

Here is the content list:
What does OEM & ODM Service for Automotive Code Reader mean?
What is the process of OEM & ODM Service for Automotive Code Reader?
About Fiberall code reader ODM and OEM solutions overview
What does OEM & ODM Service for Automotive Code Reader mean?
When it comes to auto parts, OEM & ODM Service will specify replacement parts manufactured by the original part manufacturer. But as for obd code reader, it is an external device for automobile. The following specifically introduces the ODM processing flow of the OBD fault code reader.
In order to provide better pre-sale services to customers who have ODM requirements for micro obd fault code readers (including Bluetooth, Wi-Fi or USB type), Fiberall has developed OEM & ODM targeted services, with factory direct deal, various Functions , Strong compatibility and other advantages.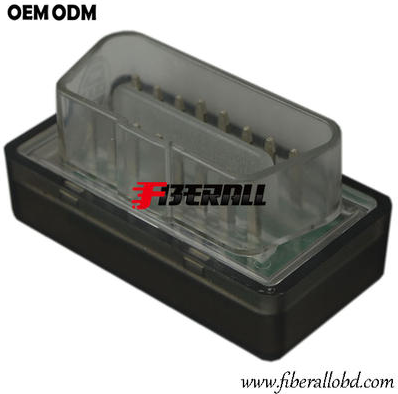 What is the process of OEM & ODM Service for Automotive Code Reader?
OBD2 bar code reader processing before ordering
(1)Inquiry: The buyer sends us a request. We will arrange for sales staff to contact the buyer.
(2)Choice (product or solution): Fiberall sales staff will recommend the corresponding obd-ii code reader or solution to the buyer according to the received requirements. Or provide a catalog or product list of the fault code reader for the buyer to compare and choose.
(3)Communication: Detailed information about obd code reader, such as specifications, compatible obd-ii protocol, compatible operating systems and applications, functions, colors, labels, packaging, etc. As for customized goods, the buyer will be required to confirm the color, pin definition, shape, label, printing, etc. in advance.
(4)Quotation: quote obdii fault code reader according to communication details. The buyer should confirm the terms of trade, delivery address, shipping method, and required documents at this stage.
(5)Sample: If there are unclear details that need to be checked or evaluated for confirmation, users are allowed to request samples.
(6)Sample confirmation: If the buyer is not familiar with the fault code reader, and has any questions or questions during the test and evaluation process, please consult our sales staff, we will do our best to make the buyer have a comprehensive view of our products To understanding.
(7)Confirm the final demand: If there are new demands after testing and evaluation, or there are other unconfirmed functions, our sales will confirm with the buyer.
(8)Processing the final requirements: If the DTC bar code reader samples meet the buyer's requirements and all requirements are clear, our sales will finalize all details for the buyer to confirm, including but not limited to:
a.Bluetooth/WiFi name
b.MAC address
c.Pairing code
d.Colour
e.Label/Manual/Package
f.Print content
g.Pin definition
Processing of OBDii fault code reader after ordering
(1)①Purchase order: formal order, signed purchase order and sales contract, PI is required;
(2)Payment method: Pay in accordance with the method agreed in the order.
(3)Engineering settings: Our technical department will process customized Bluetooth/WiFi name, MAC address, pairing code, pin definition;
(4)Design draft: Our graphic designer will design according to the printed content, label, user manual, and packaging for the buyer to confirm. Or provided by the buyer.
(5)Making ODM samples: For customized obdii fault code reader, we will confirm samples before formal production.
(6)Customer confirmation: After the customized sample is made, we will take photos or videos for the buyer to confirm.
(7)Rejection: If the customized samples cannot meet the buyer's requirements, the buyer has the right to reject and request new samples.
(8)Send ODM sample 1: If you need to confirm the customized sample of DLC code reader with the buyer, we will ship it as soon as possible.
(9)Revision/Improvement: Fiberall will revise and improve the new sample of the engine code reader based on the feedback of the previous customized sample.
(10)Send ODM example 2: Send a new example to the buyer for reconfirmation.
(11)ODM sample confirmation: If the second sample of the car code reader can be accepted, we will enter the formal production process.
(12)Outsourcing: For parts, raw materials, custom labels, packaging and certain custom parts, it will take some time to outsource, and this part will take a long time.
(13)Quality control: raw materials, semi-finished products of PCB, semi-finished products of communication modules, labels, colors, packaging materials and their quality control.
The production process of the ordered OBD-II fault code reader
(1)Production method: welding, assembling or other special processes;
(2)Test: connection test , function test and aging test, etc.
(3)Quality control: production process, finished product fault code reader, packaging, etc.
(4)Packaging: label, inner packaging, outer packaging.
The final process of the ordered DTC code reader
(1)Warehouse: After completion, the automatic fault code reader will be sent to the warehouse for recording.
(2)Transportation: book space, prepare documents, arrange collection and transportation, notify the buyer of detailed information and documents, and track transportation.
(3)After-sales service: 12 months warranty and technical support.
About Fiberall code reader ODM and OEM solutions overview
Fiberall Technology is a Chinese manufacturer specializing in automotive diagnostic tools, OBD fault code readers, OBD data loggers, car modification cables, truck extension cables, OBD connectors and modification adapters. Our factory is located in Shenzhen. We have more than 10 years of experience in ODM and OEM services for micro OBD2 fault code readers, and are able to produce products with the following customized features:
Customize Bluetooth name or WIFI name;
Custom MAC address;
Customized code matching;
Customize PIN definition;
Customized trademarks or labels;
Customized color shell;
Customized packaging and user manual;
If you need to use a custom logo on our own application;
Custom PCB and components.
For small OBDii code readers, we provide the following product types for you to choose from, and you can also specify your own design and solution:
Bluetooth 2.0/3.0 version for Android;
The WiFi version is suitable for Android and iOS;
PC version USB version;
Bluetooth 4.0 BLE version for Android and iOS.
With Bluetooth and Type-C interface;
With Wi-Fi and Type-C interfaces;
Bluetooth 5.0 BLE version.
Version with power switch to save power;
With LED indicator to monitor working status;
The Bluetooth version with LED is used for lighting.
In addition to ODM for obd code reader, we also provide some OEM services, you can change some parts according to our solution, for example, use PCB solutions, BOM, specified components or change some parts of the housing. If you have your own OEM solution, please feel free to let us know your details and requirements. For more ODM and OEM information, please check the other articles in this column or consult Fiberall sales staff!