Vehicle diagnostic technology can be used to detect and analyze components and fault zones of faults. In fact, generalized diagnosis includes three aspects: state detection, fault detection and performance prediction. Most Fiberall products are Automotive Diagnostic Tools in this field. Next, let's detail what types of Fiberall's Automotive Diagnostic Tools?

Article content list:
1. Automotive DTC diagnostic scan tool for detecting vehicles
2. V311A ODM Automotive Diagnostic Tools
3. Android Platform Automotive Diagnostic Tools and OBD Code Reader
4. OBD Automotive Diagnostic Tool and Battery Tester Support Printers
5. Handheld OBD-II DLC Diagnostic Scan Tool
6. v311b 12V car launcher battery tester and diagnostic tool
7. Handheld Bluetooth Automotive OBD Diagnostic Tool
Automotive DTC diagnostic scan tool for detecting vehicles
The V310 is an enhanced Automotive diagnostic tool. It supports most 12V gasoline vehicles, including cars, light trucks, SUVs and small trucks; but it does not apply to diesel vehicles, 24V heavy trucks, other hybrid vehicles, electronic cars.
Automotive Diagnostic Tool can also be used as a car diagnostic system code reader. In addition to reading and clearing the fault code, real-time vehicle information can also be displayed. Automotive Diagnostic TOOL can also check VIN with a button, and smoke check is also supported. How many pollutants can be seen by emissions testing through the exhaust system.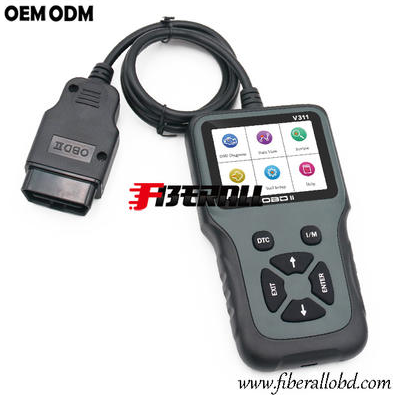 V311 AODM Automotive Diagnostic Tool
This Automotive Diagnostic Tool is a hand-held automobile diagnostic scan tool. It is a plug-and-play diagnostic instrument that does not require smartphones and applications, which can save time for installation and setting applications. This Automotive Diagnostic Tool is not limited to basic automotive diagnostics and real-time data display functions, and you can also detect I / M status (vehicle emission detection and maintenance), and as a battery tester to check the battery voltage.
DTC Fault Code Reader Function (DTC) and Battery Tester Functions (BAT) are a key feature for Automotive diagnostic tools, which is very simple and fast. With OBD2 Auto Diagnostic Tool, you will become a health master of the vehicle. You can quickly find suggestions and avoid possible accidents. It can also help you solve all possible car problems and save maintenance costs.
Android platform Automotive diagnostic scanning tool and car diagnostic system code reader
This product is a Bluetooth device for Automotive diagnosis. It is used with Android or Microsoft equipment and applications. Users can select an application from the recommended list or purchase from the application store. The black plastic shell uses a non-slip design that is not easy to slide during operation. This Automotive Diagnostic Tool can not only read the fault code, but also display sensor data and other real-time vehicle information.
Automotive Diagnostic Tools and Battery Tester Support Printers
FA-V313 is a hand-held Automotive Diagnostic Tool, which integrates a bar-code reader, a Diagnostic Scanner, and a battery tester to a device, and HD display. This Auto Diagnostic Tool is suitable for car diagnostic systems. It can read fault codes, display fault cause, clear fault code, check the freezing frame data, detect I / M ready state, check the vehicle information, display waveform data, test the battery, and print. It also supports quick query of DTC, BAT, and I / M.
Handheld OBD-II DLC Diagnostic Scan Tool
V309 Handheld Automotive Diagnostic Tool can be used to mount a vehicle in accordance with the corresponding system. It is designed according to the characteristics of the human body. Its red appearance is also very eye-catching and elegant. Unlike the Bluetooth car diagnostic system code reader, the OBD2 Diagnostic Tool is equipped with a cable, so there is no connection and compatibility issues.
V311B 12V Automotive Starter Battery Tester and Diagnostic Tool
This Automotive Diagnostic Tool has a display. The V311B car battery tester is suitable for 12V car boot battery, and the operating voltage is DC9 ~ 18V. Please do not tandem cells. If the voltage value of the battery Diagnostic Tool is checked after normal charging, the voltage value will be higher than the normal voltage value. Do not use or store this car test tool in high temperature, high humidity, flammable, explosive environment.
Handheld Bluetooth Automotive Diagnostic Tools and Code Reader
V316 is a new product of Fiberall. This Automotive Diagnostic Tool has dual-mode communication features with a car diagnostic cable that supports Bluetooth Unicom. Like other handheld products, V316 diagnostic tools can read and clear fault code, display dashboard data, and other real-time data. Performance test is a very important feature. It supports four types of performance tests, including accelerated performance testing, braking performance testing, long-distance performance testing and horsepower performance testing. It also supports travel analysis and printing.
Today, car diagnostic technology has developed. The wisdom of Automotive diagnosis is very high and gradually forms a unified international standard. Therefore, different vehicles can integrate different Diagnostic Tool from different suppliers. IOV Diagnostics Tools are used to remotely communicate. Whether it is OBD-II or EOBD VEHICLE Diagnosis, Fiberall's Automotive Diagnostic Tool is the ideal choice.